Run out of foaming hand soap?
Think again before tossing the empty plastic bottle into your recycle bin.
Only 9% of the empty plastic bottles we put in our blue bin for recycling—actually gets recycled.
Recycling costs too much and takes too long. So off to landfill goes ~2.5 BILLION plastic cleaner bottles. EVERY YEAR!
NOW's the time to switch to zero-plastic, just-add-water cleaning products.
Pods or tablets? You decide!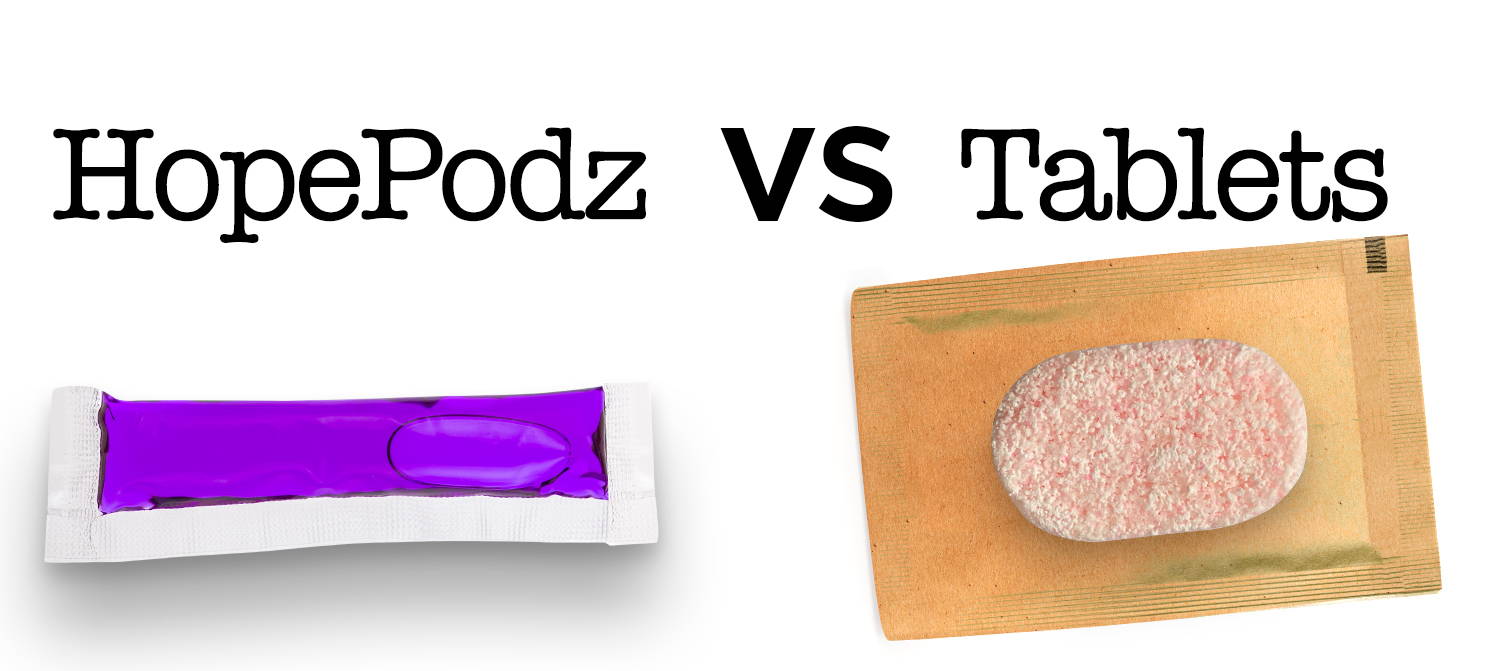 Podz = Make MORE
1 pod = 750mL to 1L of cleaning solution
Tabs = Make LESS
1 tablet = 600mL of cleaning solution
---
Podz = Powerful Cleaner
The pod's active ingredients (emulsifiers, surfactants, degreasers) make up 100% of the pod
Dissolves Fast

Powerful

Used By Professionals
Tabs = DIY Cleaner
Only 3/13 of a well-known tablet's ingredients are active. The rest (10/13) makes sure the tablet doesn't crumble & dissolves in H20
Dissolves Slower

Watery

Weak
---
Podz = Green Seal Certified
Our cleaners are certified to be non-toxic, non-carcinogenic, 100% biodegradable, cruelty-free & safe for aquatic life
Planet-Friendly Chemical Solutions

Plastic-Free Packaging

Performance Certified
Tabs = NOT Certified
Tablets have good health & environmental characteristics vs retail cleaners. However, most don't have what it takes to be Green Seal Certified:
Foil-Lined Packaging

Not Performance Certified
---
Podz = ZERO Plastic
The pods' casing is made out of Poly Vinyl Alcohol (PVA) which completely dissolves in water
A recent scientific study proves that PVA does NOT meet the definition of micro-plastics. Read the full report.
Tabs = Foil-Lined Wrappers
Tablets are often packaged in plastic pouches or foil-lined wrappers claiming to be compostable
There are no CDN Municipal Waste Centres with facilities to compost these materials
---
Podz = REDUCE, REUSE, REFILL
We're all about empowering Canadians to REUSE/REFILL their existing empty plastic bottles
Together, we've saved 65K+ plastic bottles from ending up forever in landfill
Tabs = ⬆️ Plastic Bottles
Some tablet companies push EVEN MORE designer plastic bottles to be refilled with their product.
Designer bottles often leak/break & add to the Planet's landfill problem
---
Podz = 🇨🇦
The Hope family is Canadian. Just 5 of us. Every day, we head into our parents' basement to hand-pack your Podz into tiny, recyclable boxes. We avoid factory-packed wrappers because they get diverted to landfill 90% of the time
CDN$ + HST

Canada Post Lettermail
Tabs = 🇺🇸 🇨🇳
Tablet companies often ship their 1st orders WITH 3 designer plastic bottles. This REALLY increases carbon footprint. Especially when plastic bottles are made in China, shipped to the US, then exported into Canada (along with the tablets)
US$ + Duties

Barge, Plane, Train, Freight