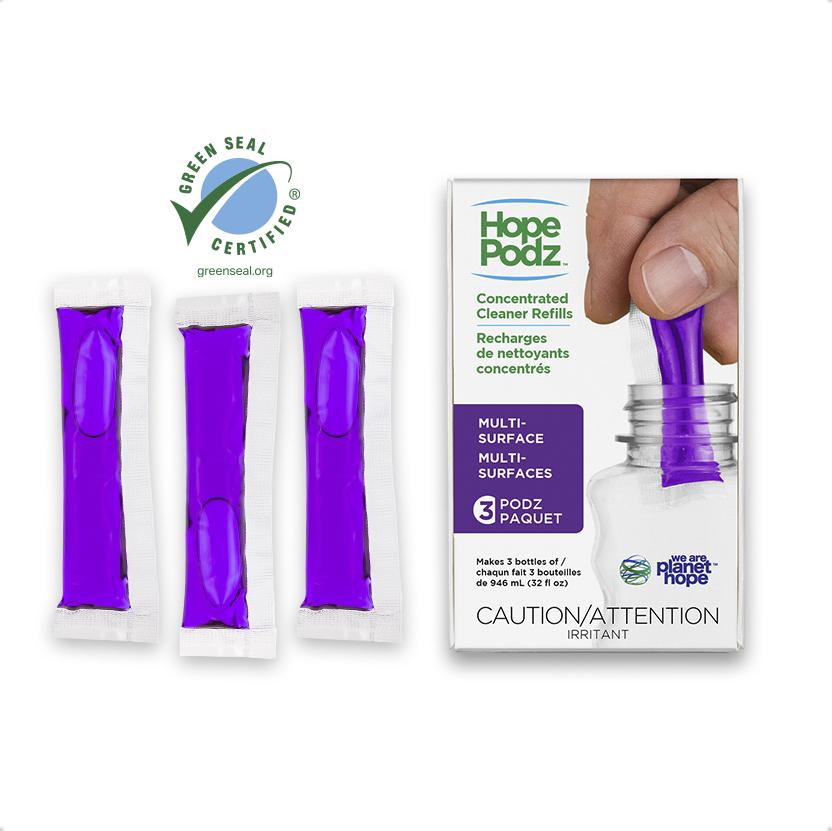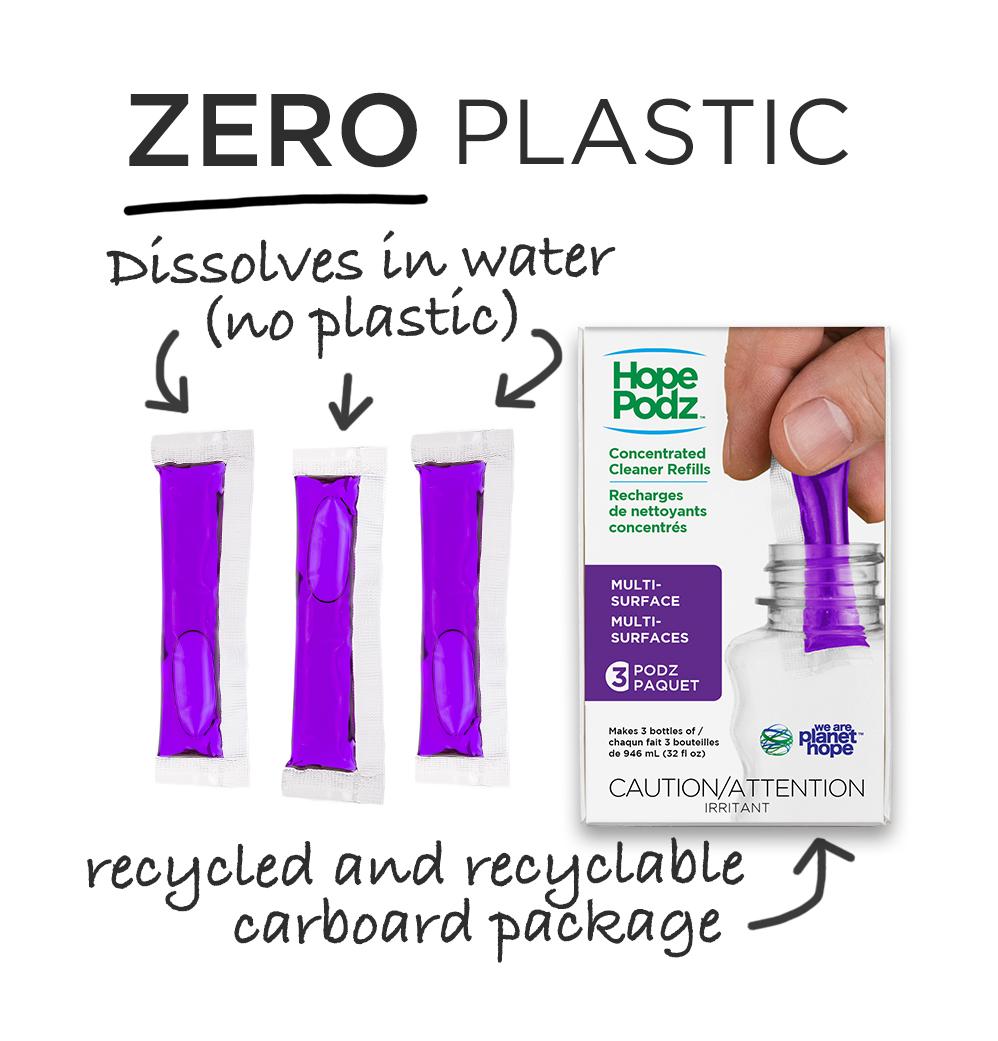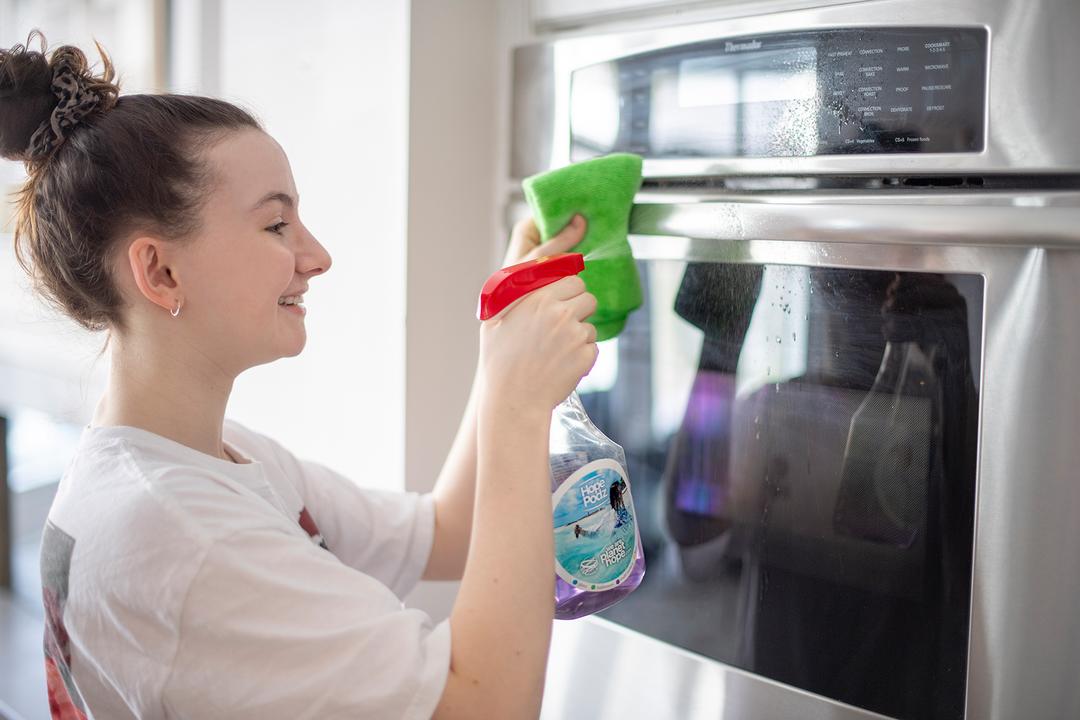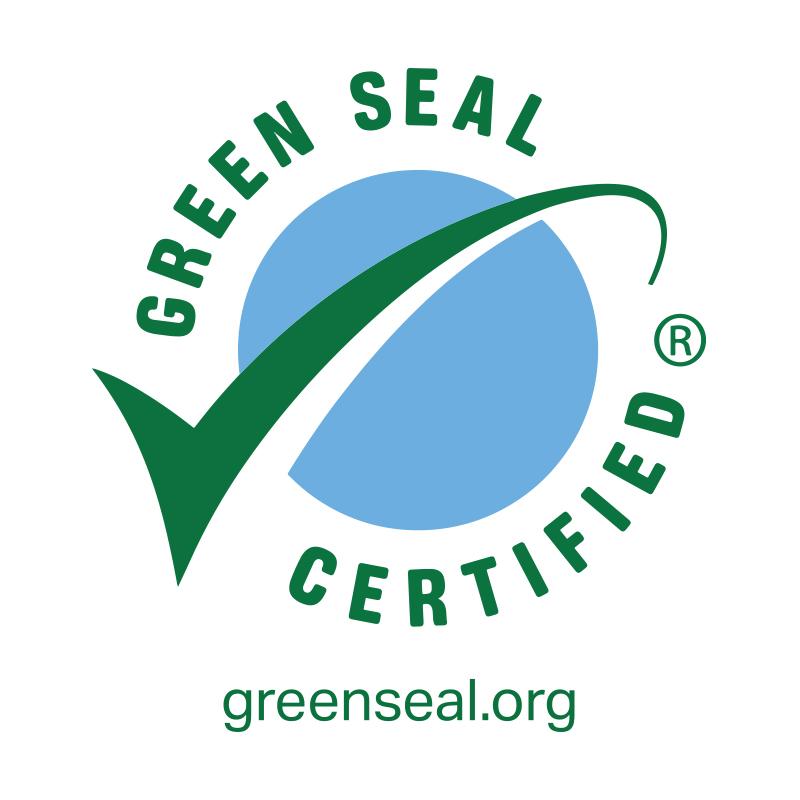 HopePodz
 Multi-Surface
KITCHEN 
DEGREASER
"So happy! Leaves my counters STREAK-FREE! And cleaner than a lot of brands I've used.'  Kristina P, Planet Hoper since Apr. 2020

Keep your kitchen sparkling & your floors squeaky clean — minus all that nasty plastic! 
3 MULTI-SURFACE PODZ = 3 BOTTLES OF CLEANER (1L)

for 3 Podz = 3 bottles of cleaner (1L)

Keep your kitchen sparkling & your floors squeaky clean — minus all that nasty plastic! 
Reuse a plastic bottle from your recycle bin, drop in a Podz, and add tap water 💦
Each Podz makes 750mL to 1L of multi-surface cleaner in (very faintly scented) Lavender

Supreme Degreaser Power:

 Tackles dirt, grime & grease in your kitchen & on your floors like no other (it's our best-seller for a reason)

Green Seal Certified:

 Non-toxic, non-carcinogenic, safe for aquatic life, 100% biodegradable, pet-friendly

Zero Plastic Waste:

 Podz hand-packed in our parents' basement into mini-cardboard boxes — not in factory-packed plastic bottles, pouches or "compostable" wrappers that end up

FOREVER

in landfill 😉

Made in Canada:

 Thank you for supporting our family-run (just the 5 of us), student-led movement. Together, we've saved 85,000 bottles from landfill  🇨🇦

We mail your packs by Canada Post:

1-2 Packs = $3 CDN
3-4 Packs = $6 CDN

Green Seal Certified
Made without ammonia, chlorine bleach, parabens, phosphates, phthalates, VOCs
Made without disinfectant or anti-bacterial agents
Sourced from ingredients that are vegan, cruelty free, gluten-free
See full ingredient list under FAQ on this page

Our subscription gives you the most convenience @ the BEST price ($11.99/pack). Still, we know subscriptions are not for everyone — Now, you can save up to 30% when you buy 2 or more Packs👇
SAVE UP TO 30%
BUY 2 OR MORE PACKS 👇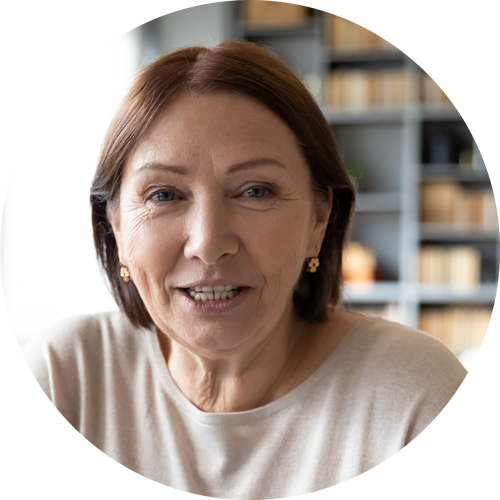 Love my Podz
★ ★ ★ ★ ★
It's such a great product that saves so much plastic. The best part is the cleaners really work!! My only problem is I run out of the all purpose cleaner quicker than that the others but they let you pause orders so easily ~Anna on Feb 14, 2022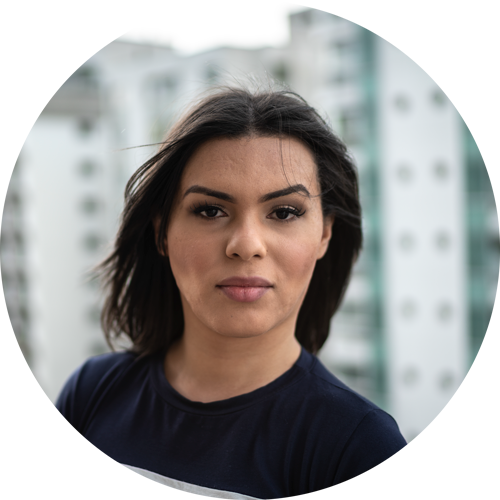 I was worried!
★ ★ ★ ★ ★
I can't do most fragrance or perfumes because they cause migraines, but the lavender in your multi-surface cleaner doesn't trigger my migraines at all. I never thought I could enjoy the scent of lavender until I tried these!  ~Sara B on Jan 25, 2022
STILL HAVE A QUESTION?
CHAT WITH US — ANYTIME!
Can I use Multi-Surface on my wood floors?

HopePodz Multi-Surface Cleaner is specially formulated to tackle dirt and grease on all NON-POROUS SURFACES, including:


Counters
Sealed wood floors (we drop one in our Vileda spray mop 🧹
Laminate
Sealed stone (i.e., marble, granite, quartz, travertine, terrazzo)

Our manufacturer calls it lavender — but I really don't smell much of anything. In fact, many Planet Hopers tell me they add a few drops of their favourite essential oil to beef up the scent a bit.

Still, we caution you that HopePodz may not be suitable for individuals with scent sensitivities. If you find you cannot manage the fragrance, we have a 100% money back guarantee.

What size bottle do I need to refill? What if I don't have one?

Dilute your Podz in any 750mL to 1L bottle. FUN FACT! Our Podz make almost 2X more cleaner solution (400mL) than US tablet refills or strips. 


If you don't have a spare bottle kicking around — or prefer glass to plastic — we have awesome sprayer tops that fit your mason jars or empty Classico tomato sauce jars!

What are the ingredients? Are they safe?

Ingredients: Our Green Seal Certified, Multi-Surface formulas are non-toxic & non-carcinogenic. They contain:

Ethoxylated alcohols
C9-C11 blend
Hexylene glycol
Propylene glycol
Water
Synthetic fragrance (lavender)
Dye




Safety: As with all cleaners, please keep your Podz out of reach of children.

The following safety information is for concentrated Podz only. Once diluted with water at home, these warnings no longer apply. Please refer to the dilution instructions included in your Pack... "KEEP OUT OF REACH OF CHILDREN. May irritate eyes and skin. Do not get in eyes or skin. Do not ingest. FIRST AID: Contains: Ethoxylated alcohols C9-C11 blend, Hexylene Glycol, Propylene Glycol. If contents come in to contact with skin rinse with water. If ingested, drink plenty of water and do not induce vomiting, consult a physician or poison control centre. In case of eye contact, flush with water for at least 15 minutes and seek medical attention"

Where are HopePodz manufactured?

🇨🇦 We're a student-led company (with a little help from our parents) that's based in Ontario.

We ship everything using Canada Post
We charge in CDN dollars
There are no duties or custom charges
Our manufacturing partner is also Canadian, with facilities in both Canada & the US

Is HopePodz packaging recyclable?

Yes! In our parents basement, we hand-pack your Podz into tiny, RECYCLABLE CARDBOARD boxes.




We avoid factory-packed, plastic "recyclable" pouches used by Big Brands — as well as "compostable" wrappers (often foil-lined) used by our American tablet friends. 




Sadly, plastic pouches & compostable wrappers too often end up FOREVER in landfill. Few major Canadian Municipal Waste Centres have the facilities to compost/recycle these materials. 

Do the Podz break down into micro-plastic?

Our Podz do NOT contribute to the Planet's micro-plastics issue. The Podz casing is made up of polyvinyl alcohol (PVA,PVOH). PVA is Green Seal Certified to 100% biodegrade into a non-harmful monomer that's safe for aquatic life. A recent scientific study in Germany (MARCH 2021) concludes that PVA does not meet any of the definitions of micro-plastic:

it is not micro- or nano-sized;
it is highly water-soluble; and
it is biodegradable in the environmental conditions where it is discharged




Podz vs powdered tablet refills: What's the difference?

We're a 🇨🇦 family-run company (just the 5 of us) operating out of our parents home here in Toronto (vs big US brand)
We charge in CDN$ and ship by Canada Post (vs 🇺🇸)
Podz = 400mL more cleaner (vs tabs)
Podz liquid concentrates = more active ingredients so clean better (vs powdered tabs)
Podz packaging = recyclable cardboard (vs foil-lined "compostable" wrappers imported into Canada then diverted to our landfills)




Check out this blog post: Podz vs Tablets: What cleans better?


How does the Subscription work?

Subscribe & save 33.33% on each HopePodz delivery. Your Podz will arrive right at your door, only when you need them. 




1. Select your delivery frequency (from every 3 to 8 months)

2. We'll email you an invite to set up an Account

3. A few days before your shipment, we'll send you an email to see if you need to stock up on your Podz

4. If you don't, just access your Account before your next charge date to change your cleaners, delivery schedule or cancel your subscription

5. We ONLY bill your card when we fulfill your order




Of course — one of us Hopes is also here to help manage your subscription 😊

Can I return the Podz if I don't like how they clean or smell?

Absolutely! You can return or exchange the unused Podz within 30 days of delivery for a full refund or exchange. One of us Hopes is here to help 😊

Just email us at 

info@weareplanethope.com; 

or 

Chat With Us

 on the bottom right of this screen; or

Call 

1-866-521-HOPE (4673)

Why won't my credit card information go through? What should I do?

Argh! So frustrating!  Make sure the billing address you enter matches EXACTLY the address that appears on your credit card statement.  I've seen problems with Road vs Rd — and even an extra space here vs there will confuse the technology! And if that doesn't work, please:

Email us at 

info@weareplanethope.com; 

or 

Chat With Us

 on the bottom right of this screen; or

Call 

1-866-521-HOPE (4673)

. One of us Hopes 

will hear your ping & can help process the payment on this end 💚 😊
Join us for new videos, discount codes, and more!