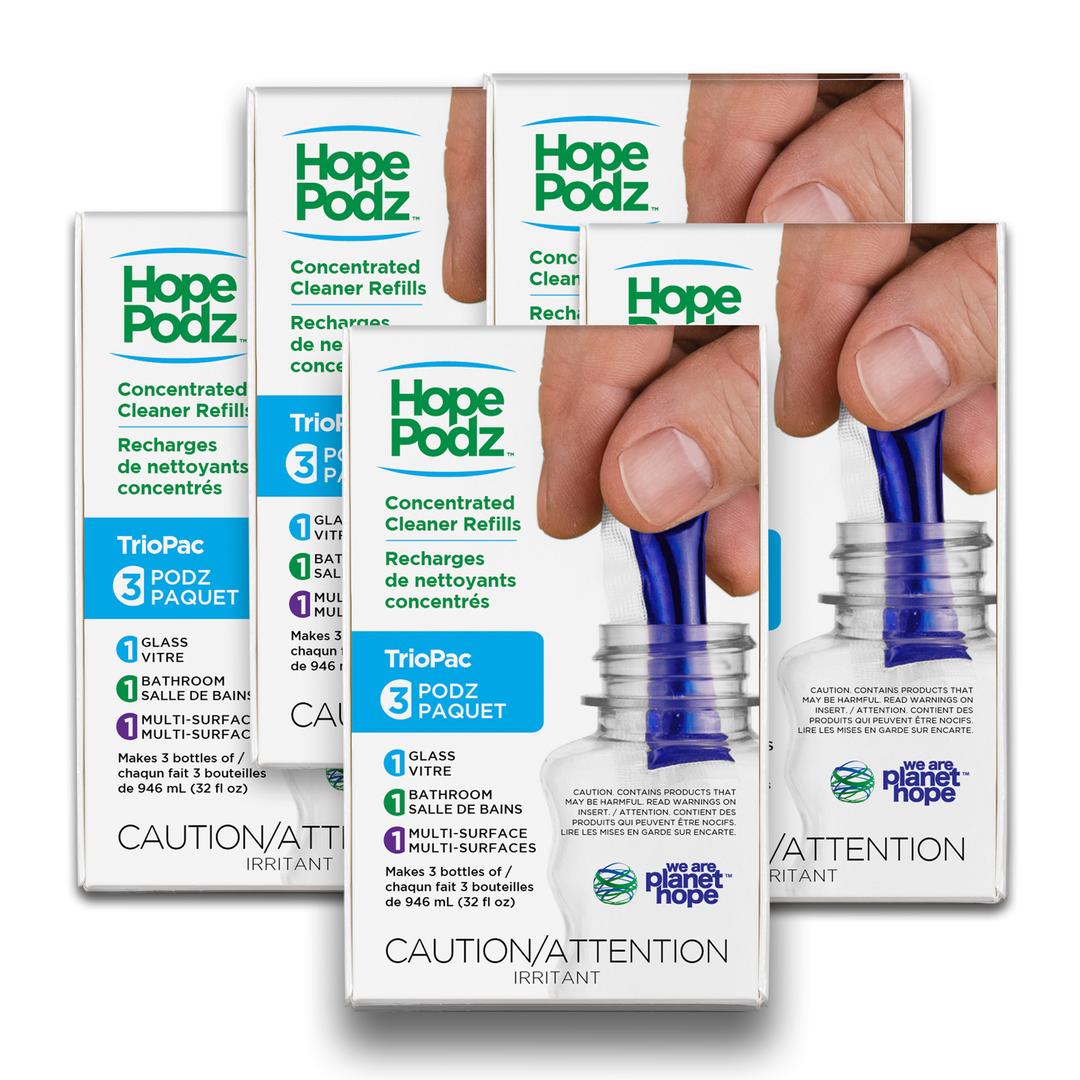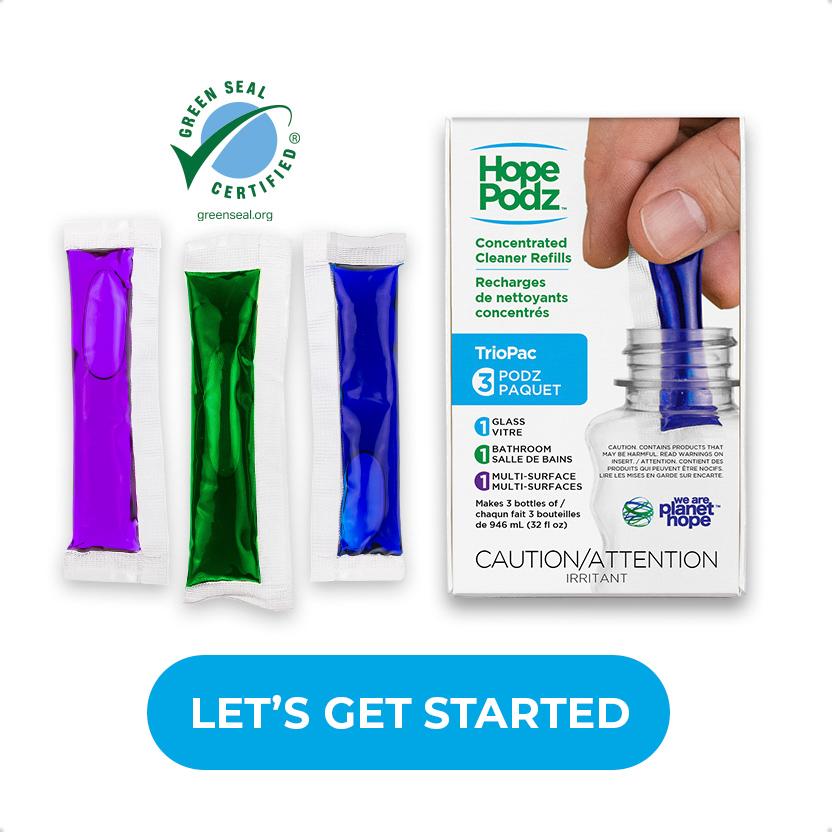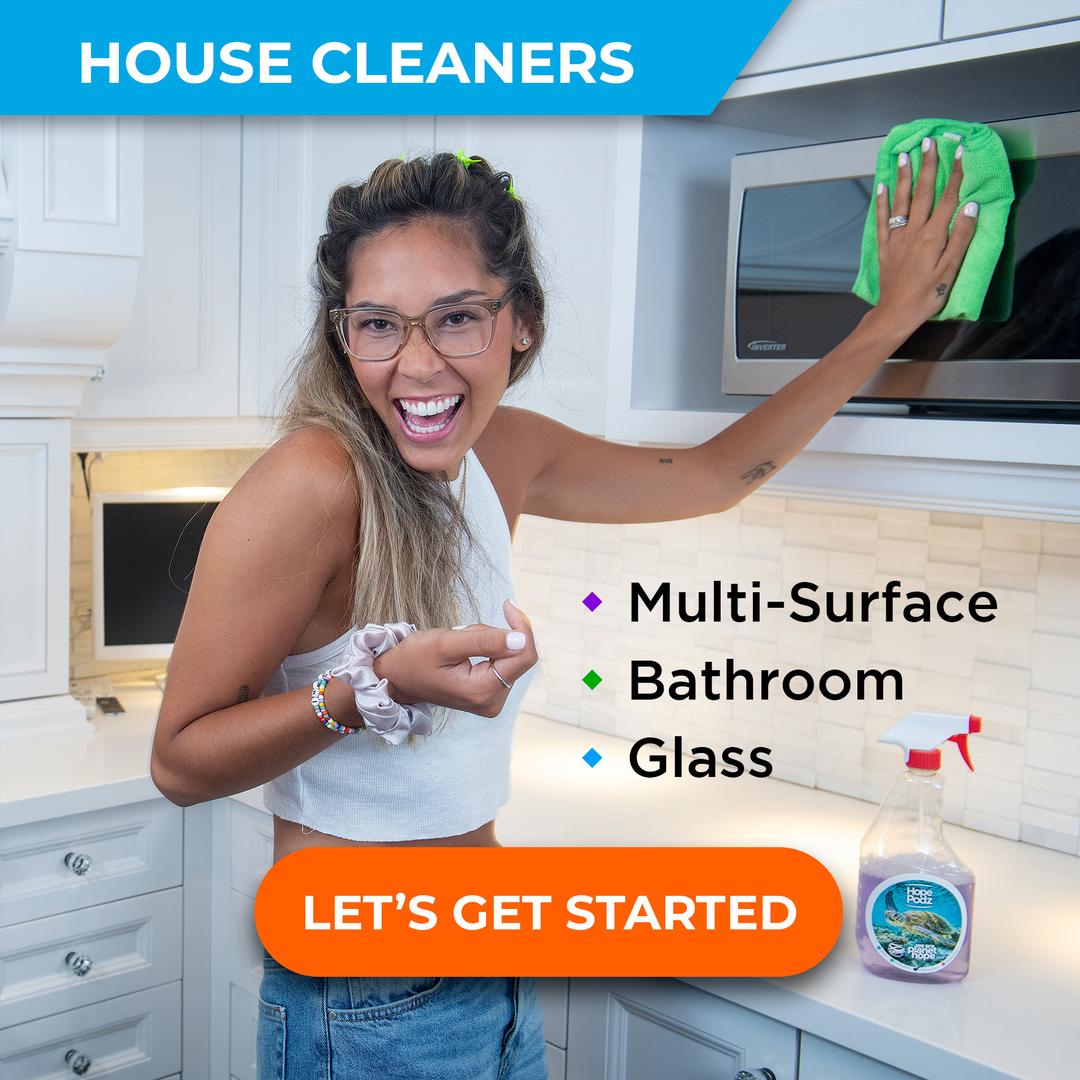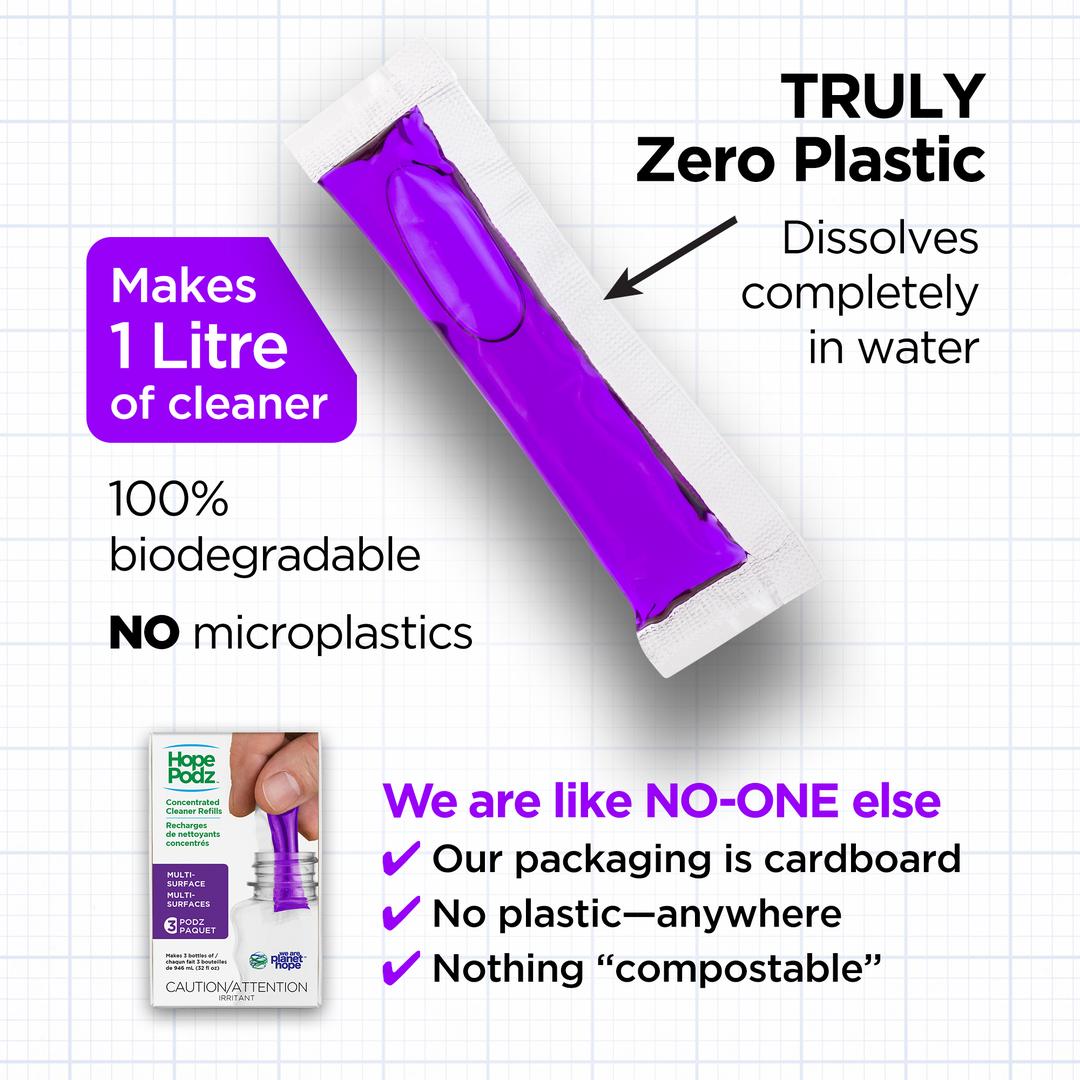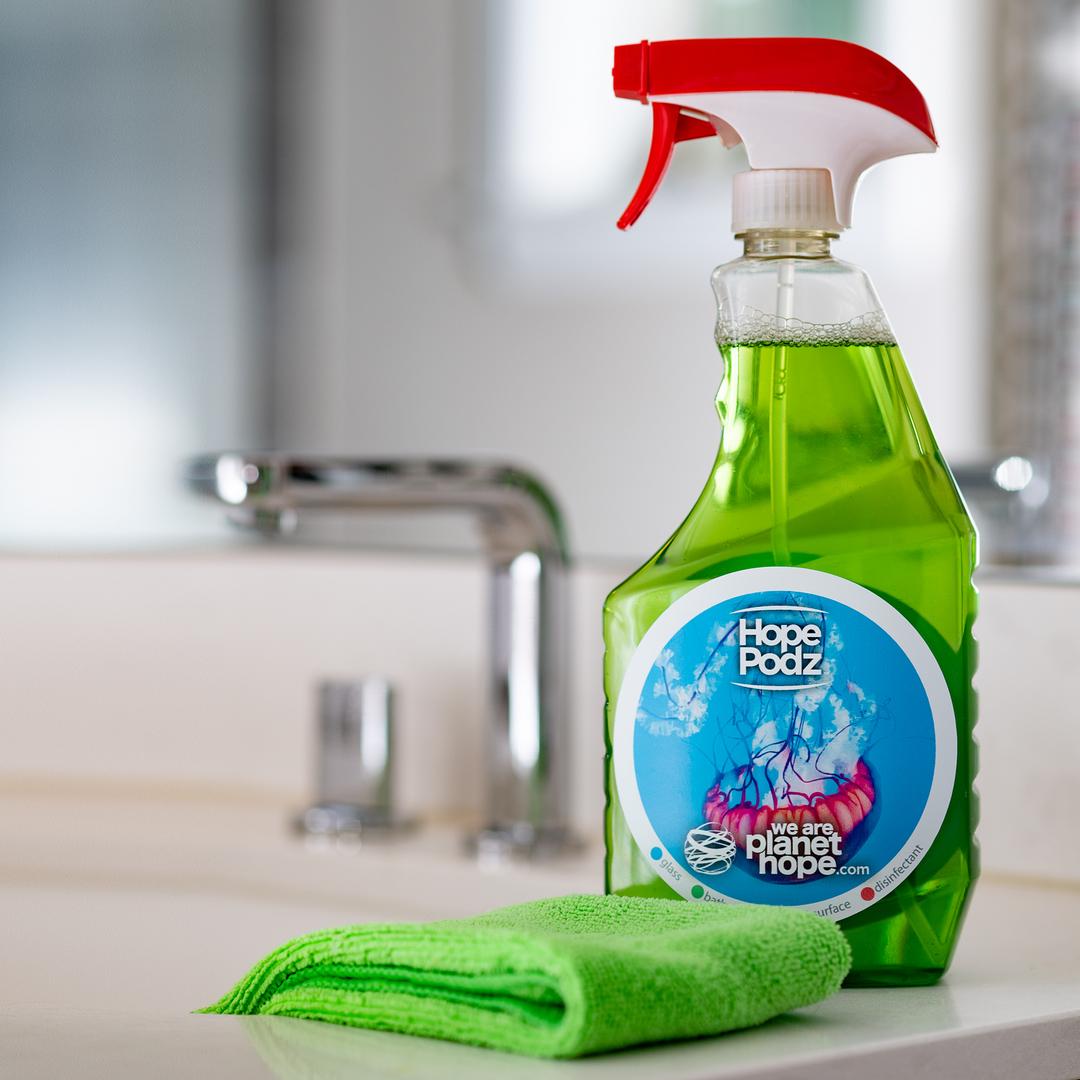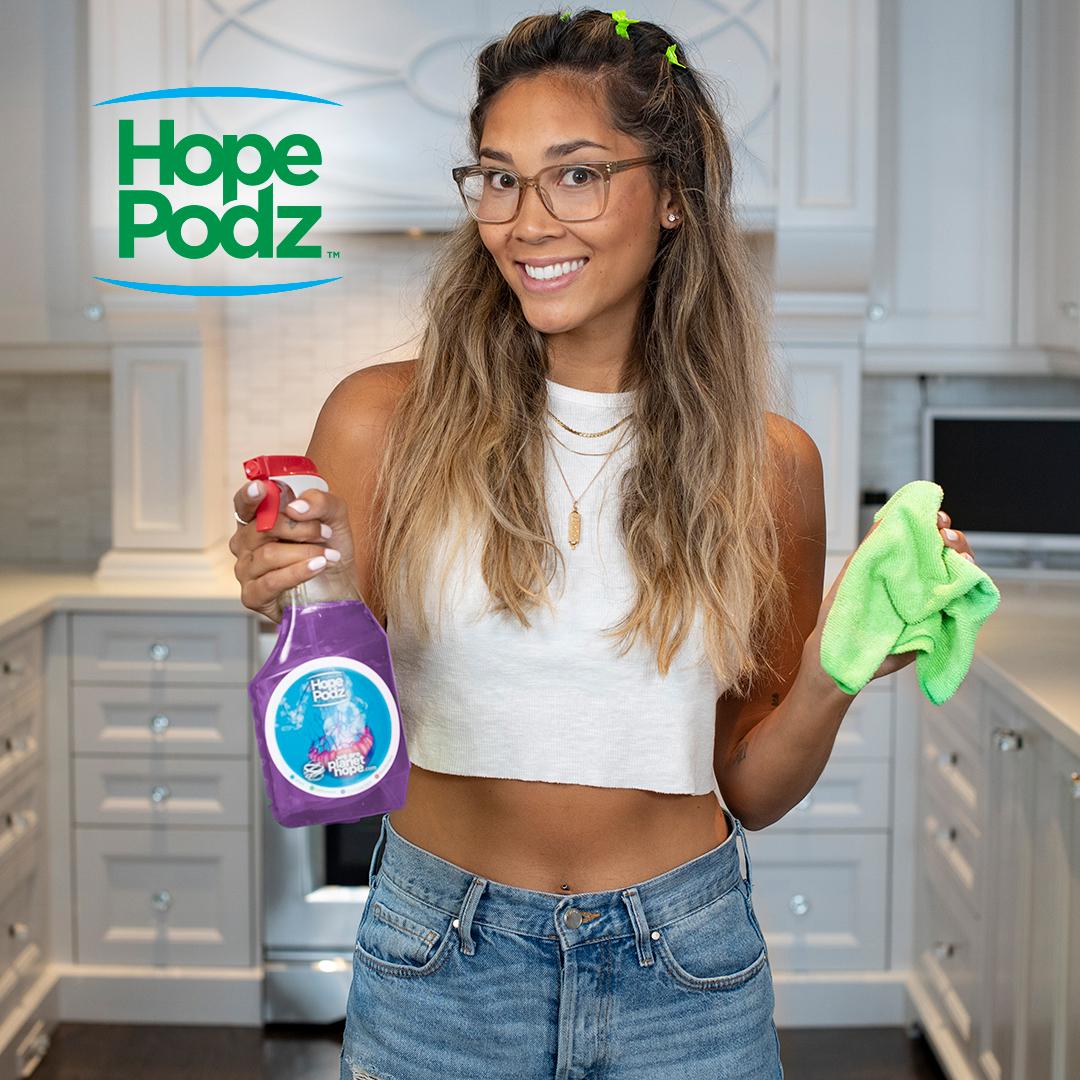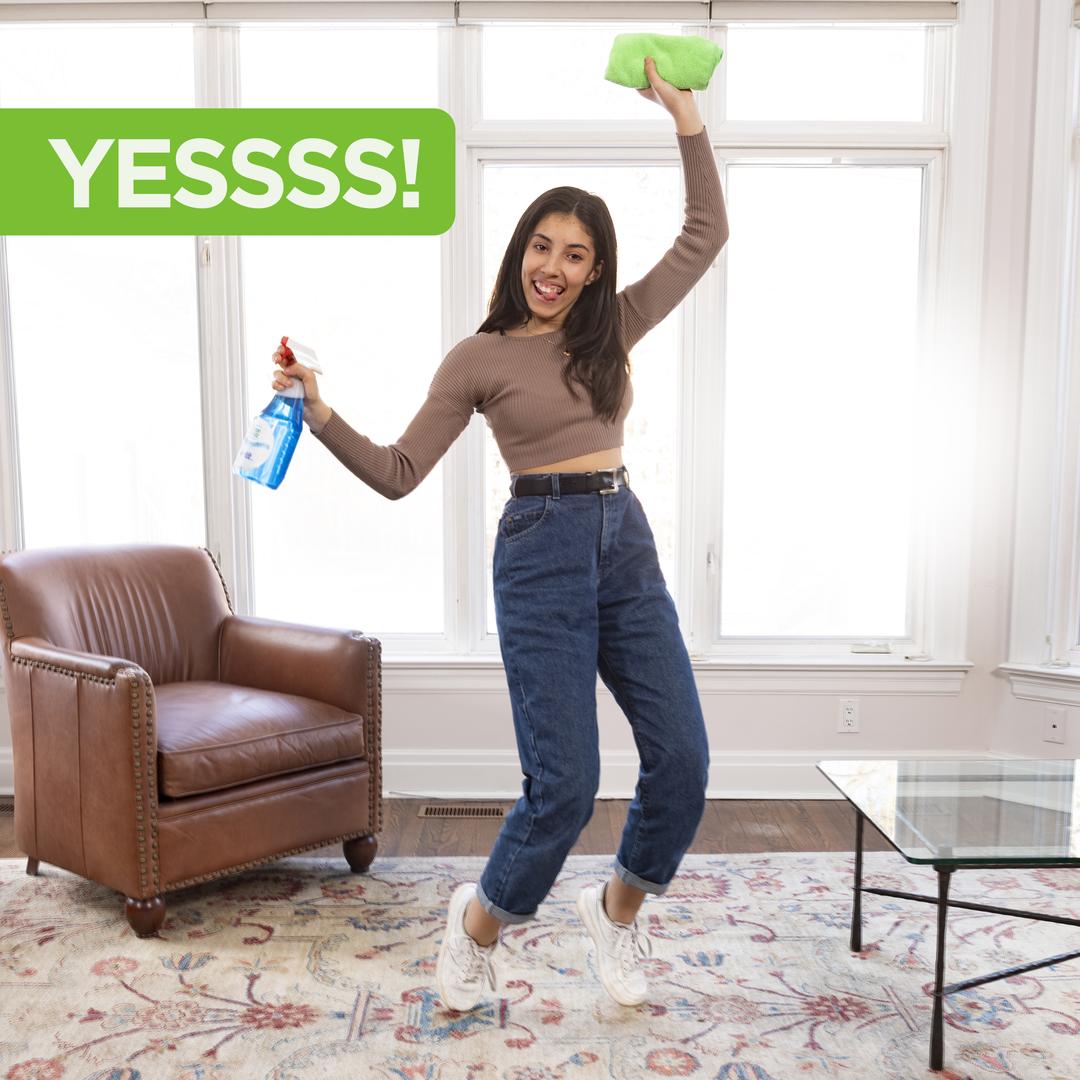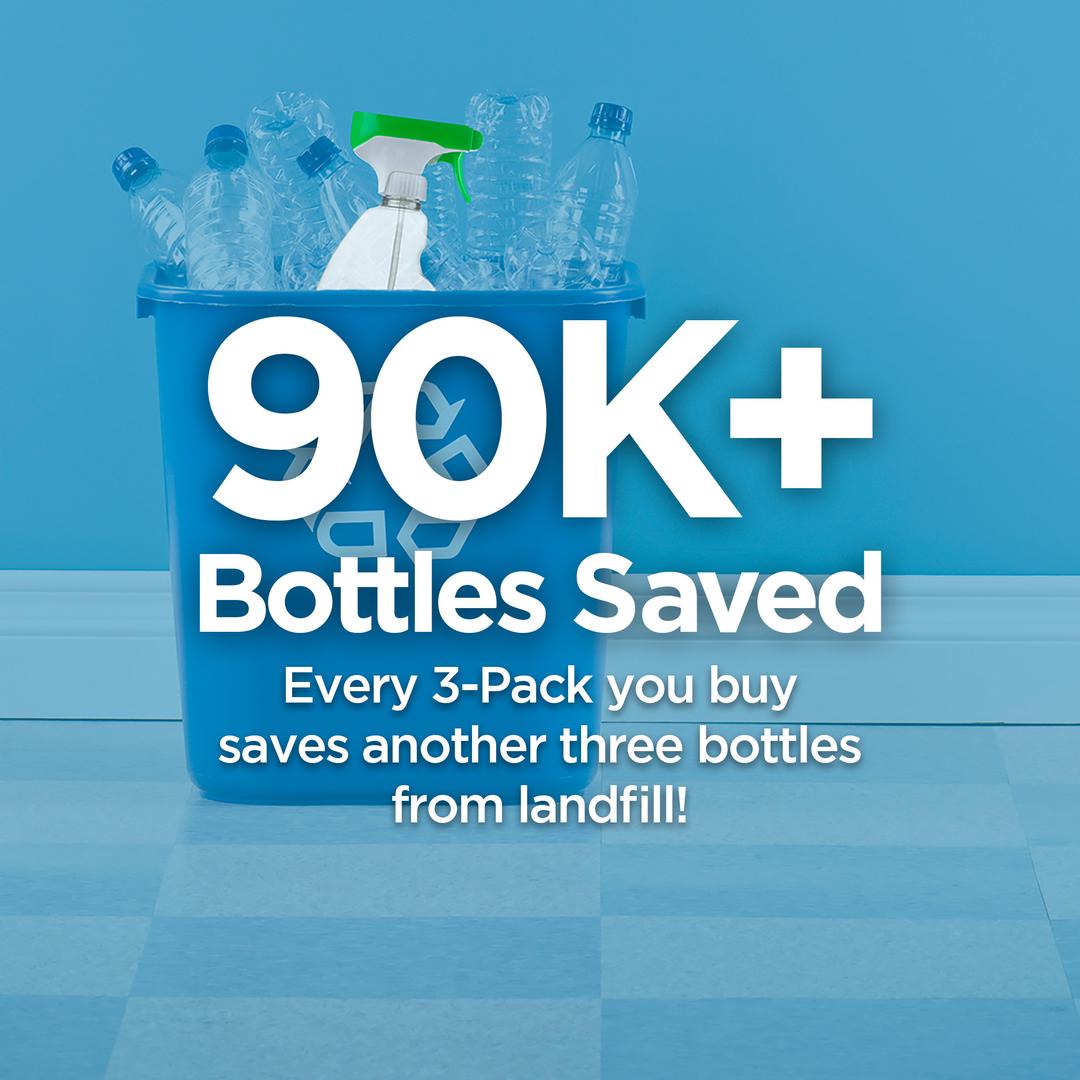 Sharing is Caring
TrioPac Kit
Save up to 55%! Get a TrioPac for everyone you know who's trying to cut down on plastic bottles 🌎 Each Kit includes: 5 HopePodz House-Cleaner Starter TrioPacs
⭐⭐⭐⭐⭐
"HopePodz is such a great product that saves so much plastic. The best part is the multi-surface, bathroom & glass cleaners really work!!" ~Anna, Planet Hoper '22

⭐⭐⭐⭐⭐
"HopePodz is such a great product that saves so much plastic. The best part is the multi-surface, bathroom & glass cleaners really work!!" ~Anna, Planet Hoper '22
Each of the 3-Podz makes 750mL to 1L of Green Seal Certified house cleaner (Multi-Surface, Bathroom & Glass)

Reuse an empty spray bottle, drop in a Podz & add tap water 💦

Every Podz saves another plastic bottle from landfill

NO plastic bottle, pouch, foil-lined "compostable" wrapper

The more friends you have — the more HopePodz Starter TrioPacs you'll want to gift this year — and the more you save!

Save 33% | 5-Friends Kit | 5 TrioPacs X $12

Save 44% | 10-Friends Kit | 10 TrioPacs X $10

Save 55% | 15-Friends Kit | 15 TrioPacs X $8

Supreme Cleaning Power: Used by pros to clean dirt, grime & grease in kitchens, bathrooms, floors & everywhere in between!

Green Seal Certified: Non-toxic, non-carcinogenic, safe for aquatic life, 100% biodegradable, pet-friendly

Zero Plastic Waste: Podz hand-packed in our parents' basement into mini-cardboard boxes — not in factory-packed plastic bottles, pouches or "compostable" wrappers that end up FOREVER in landfill 😉

Made in Canada: Thank you for supporting our family-run (just the 5 of us), student-led movement. Together, we've saved 90,000 bottles from landfill  🇨🇦

Green Seal Certified

Made without ammonia, chlorine bleach, parabens, phosphates, phthalates, VOCs

Made without disinfectant or anti-bacterial agents

Sourced from ingredients that are vegan, cruelty free, gluten-free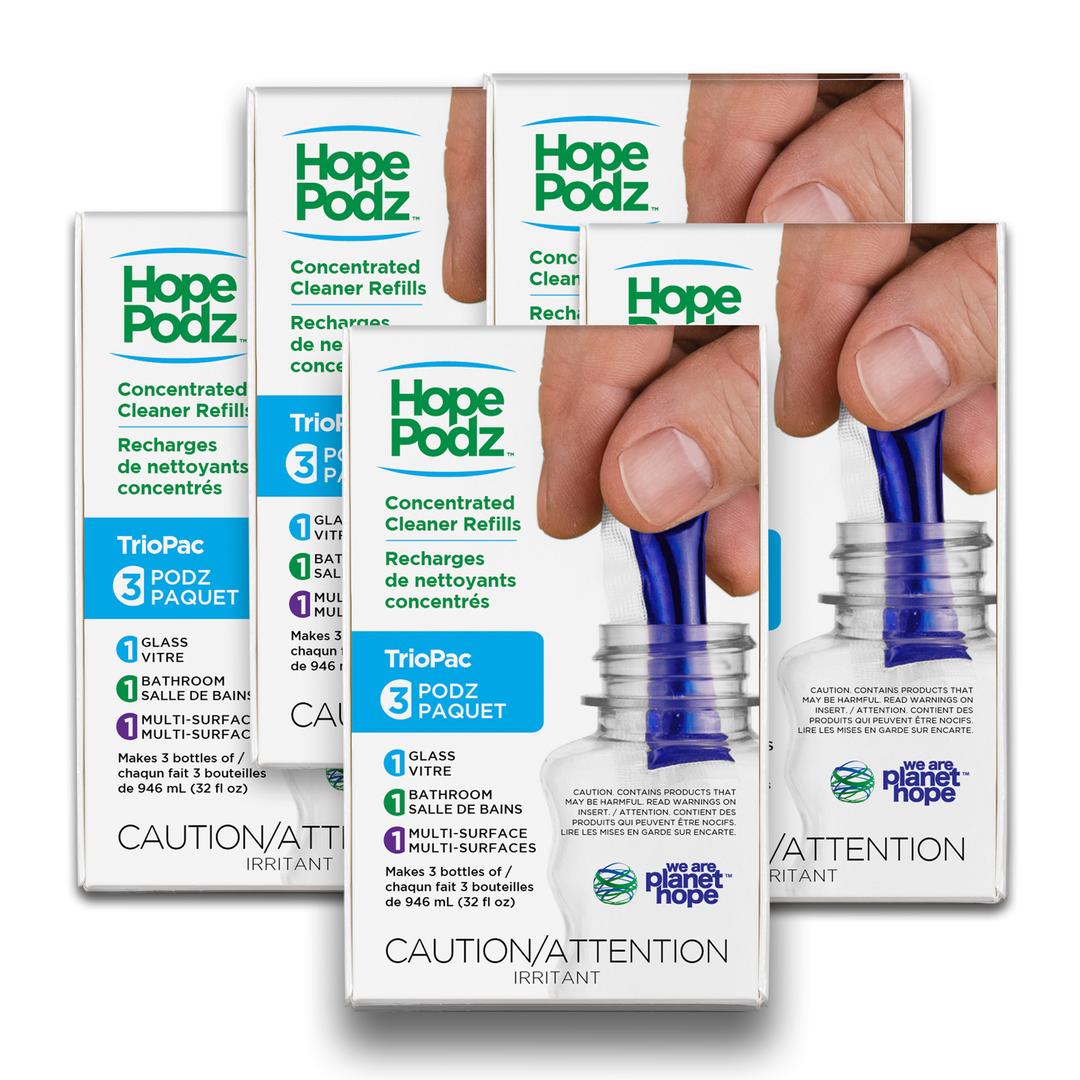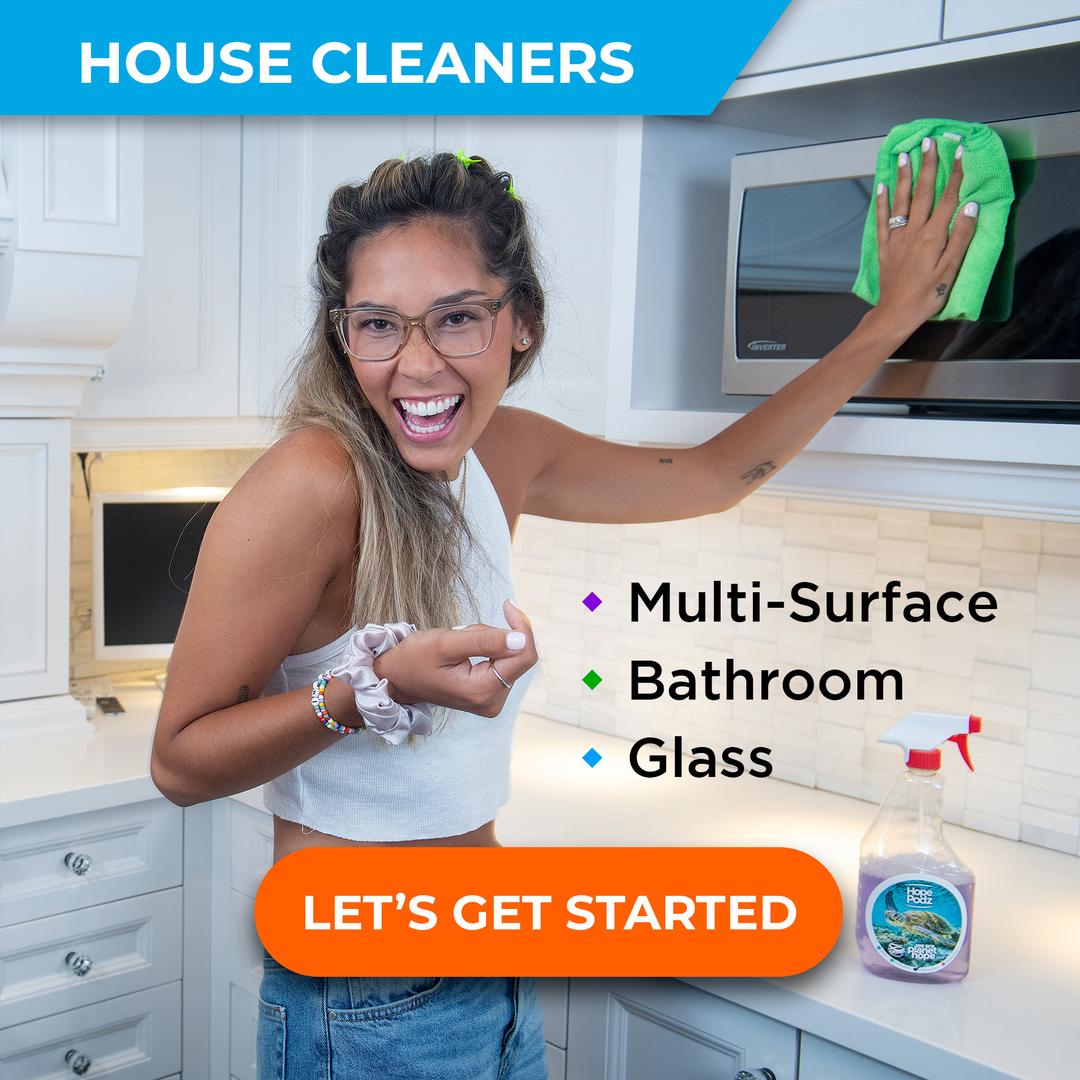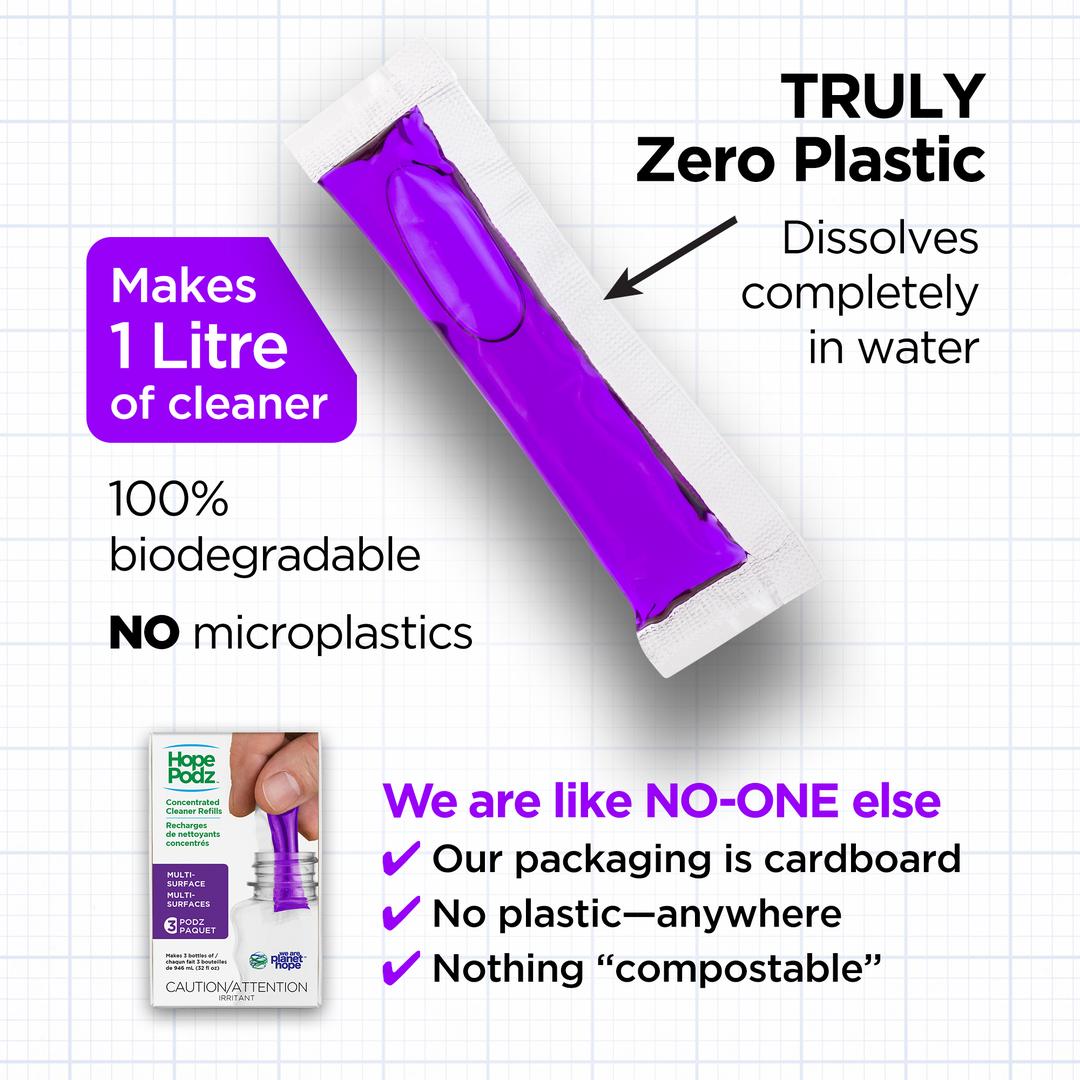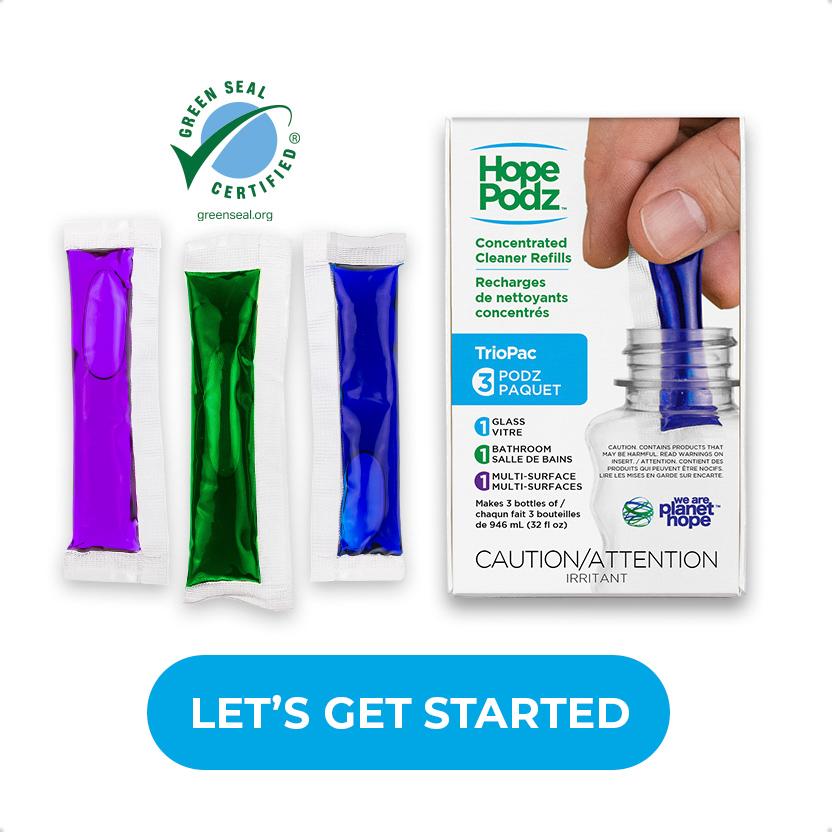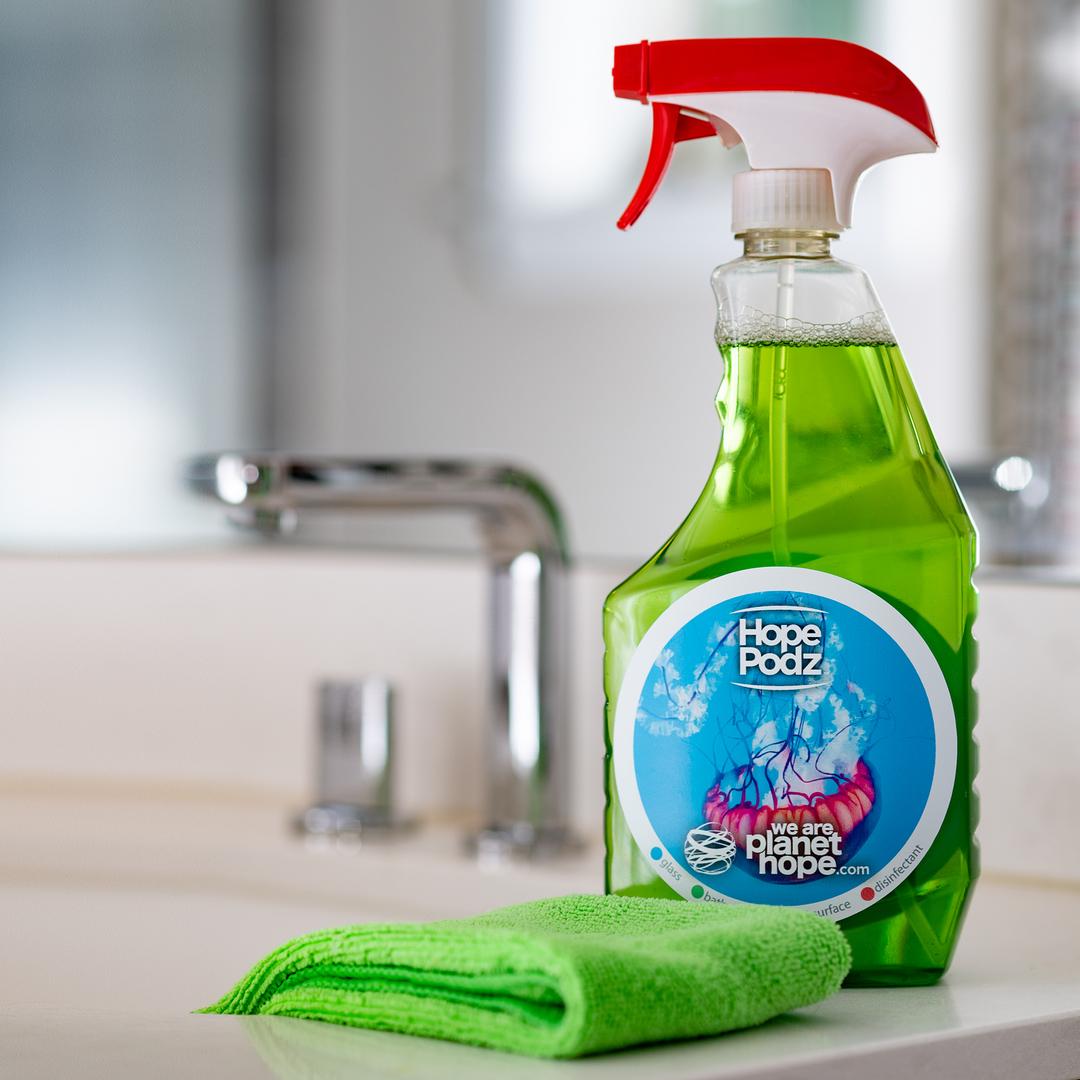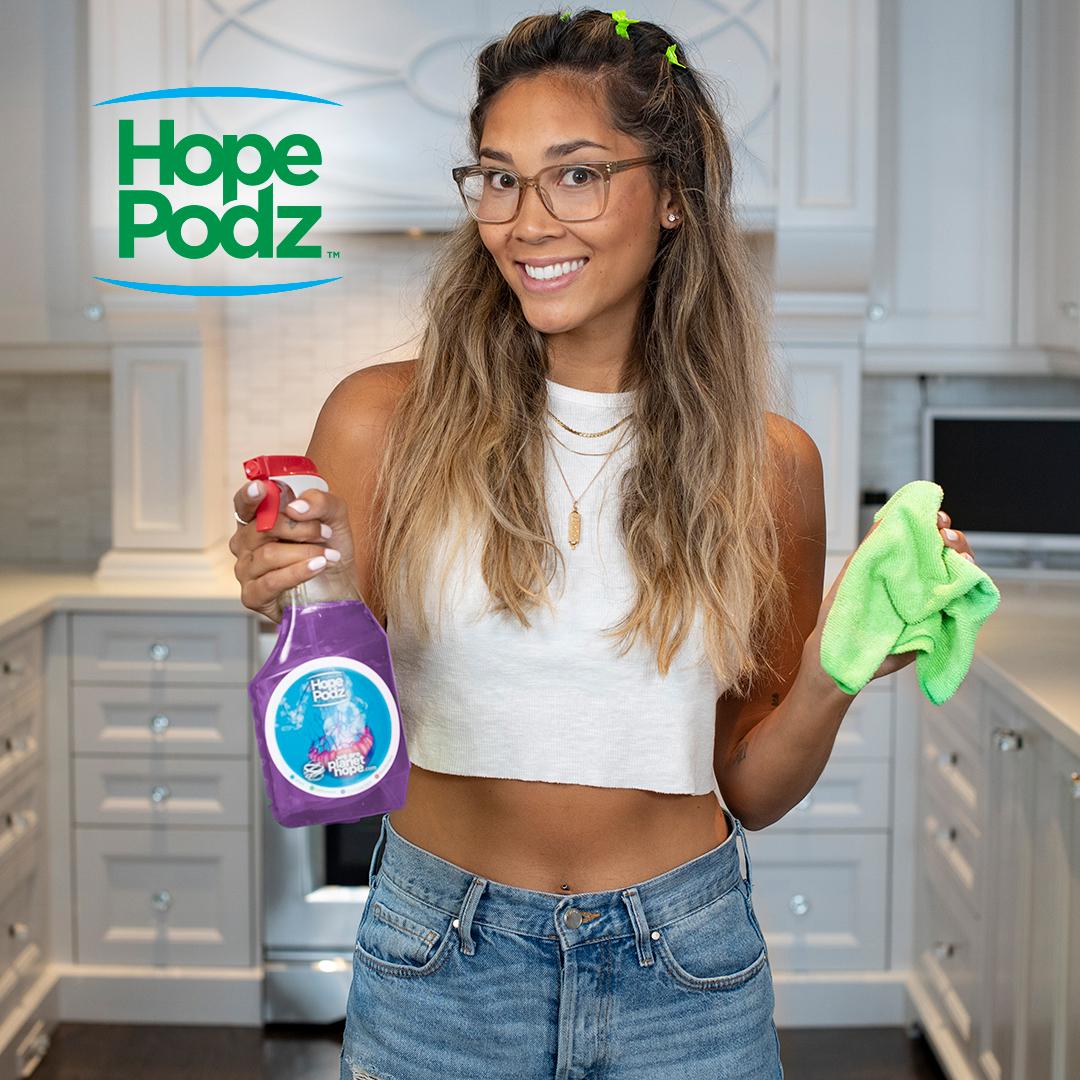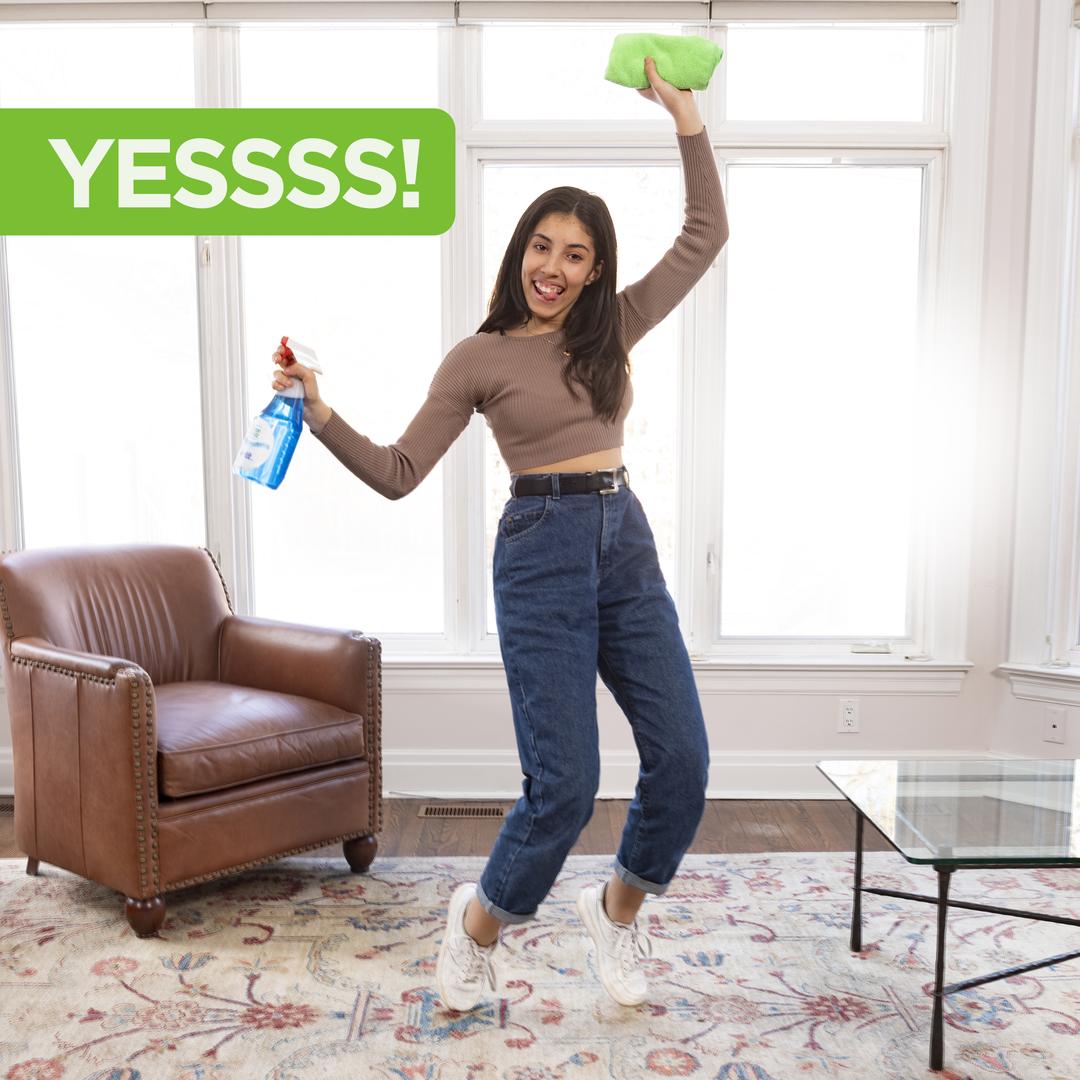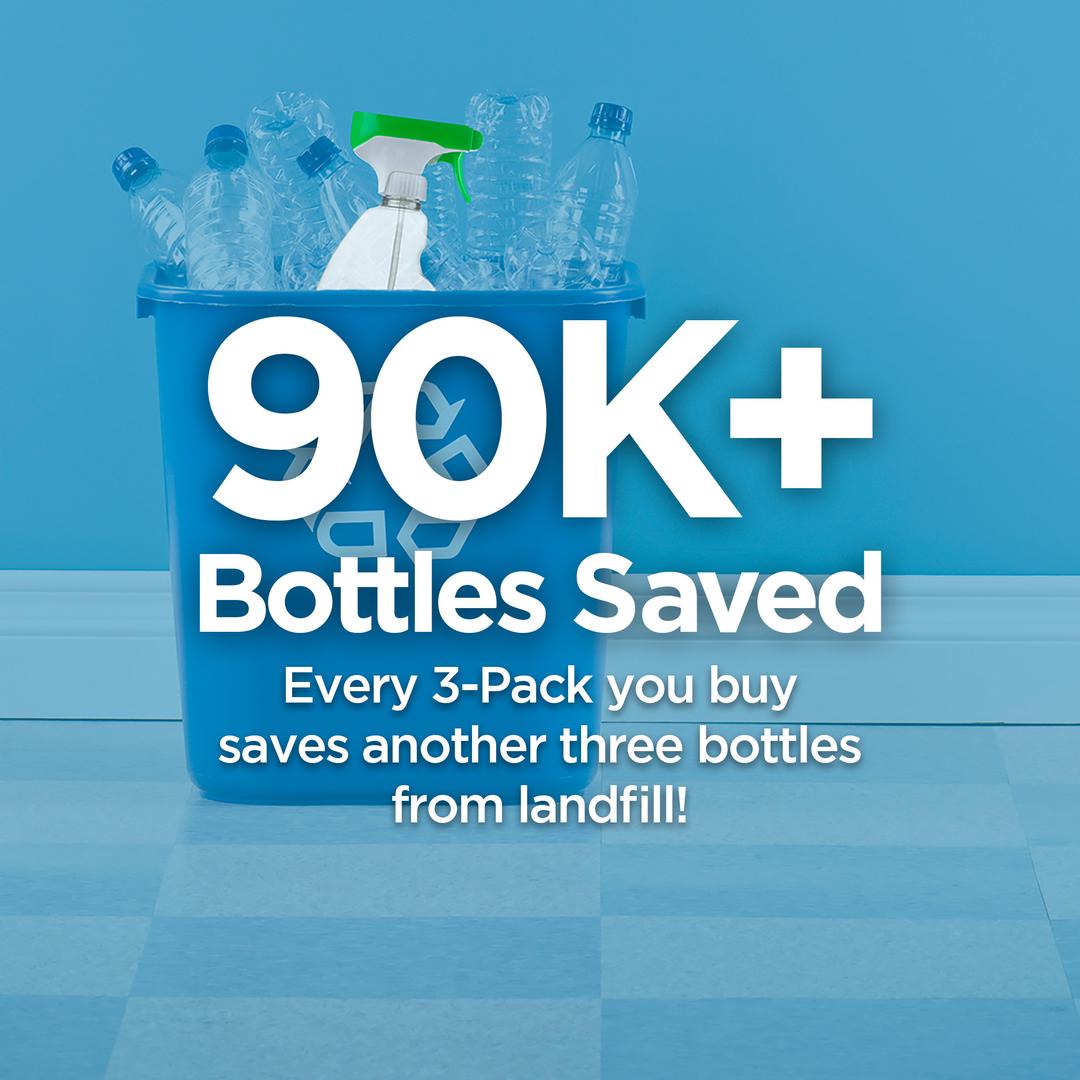 Sharing is Caring
TrioPac Value Kit
For Planet Sakes! Get a TrioPac for everyone you know who's trying to cut down on plastic bottles 🌎 Kit includes: 5 HopePodz House-Cleaner Starter TrioPacs
⭐⭐⭐⭐⭐
"HopePodz is such a great product that saves so much plastic. The best part is the multi-surface, bathroom and glass cleaners really work!!" ~Anna, Planet Hoper '22

⭐⭐⭐⭐⭐
"HopePodz is such a great product that saves so much plastic. The best part is the multi-surface, bathroom and glass cleaners really work!!" ~Anna, Planet Hoper '22
Each of the 3-Podz makes 750mL to 1L of Green Seal Certified house cleaner (Multi-Surface, Bathroom & Glass)

Reuse an empty spray bottle, drop in a Podz & add tap water 💦

Every Podz saves another plastic bottle from landfill

NO plastic bottle, pouch, foil-lined "compostable" wrapper

The more friends you have — the more HopePodz Starter TrioPacs you'll want to gift this year — and the more you save!

Save 33% | 5-Friends Kit | 5 TrioPacs X $12

Save 44% | 10-Friends Kit | 10 TrioPacs X $10

Save 55% | 15-Friends Kit | 15 TrioPacs X $8

Supreme Cleaning Power: Used by pros to clean dirt, grime & grease in kitchens, bathrooms, floors & everywhere in between!

Green Seal Certified: Non-toxic, non-carcinogenic, safe for aquatic life, 100% biodegradable, pet-friendly

Zero Plastic Waste: Podz hand-packed in our parents' basement into mini-cardboard boxes — not in factory-packed plastic bottles, pouches or "compostable" wrappers that end up FOREVER in landfill 😉

Made in Canada: Thank you for supporting our family-run (just the 5 of us), student-led movement. Together, we've saved 90,000 bottles from landfill  🇨🇦

Green Seal Certified

Made without ammonia, chlorine bleach, parabens, phosphates, phthalates, VOCs

Made without disinfectant or anti-bacterial agents

Sourced from ingredients that are vegan, cruelty free, gluten-free
REUSE your plastic bottles. Just add 💦
Each TrioPac contains 3 Podz...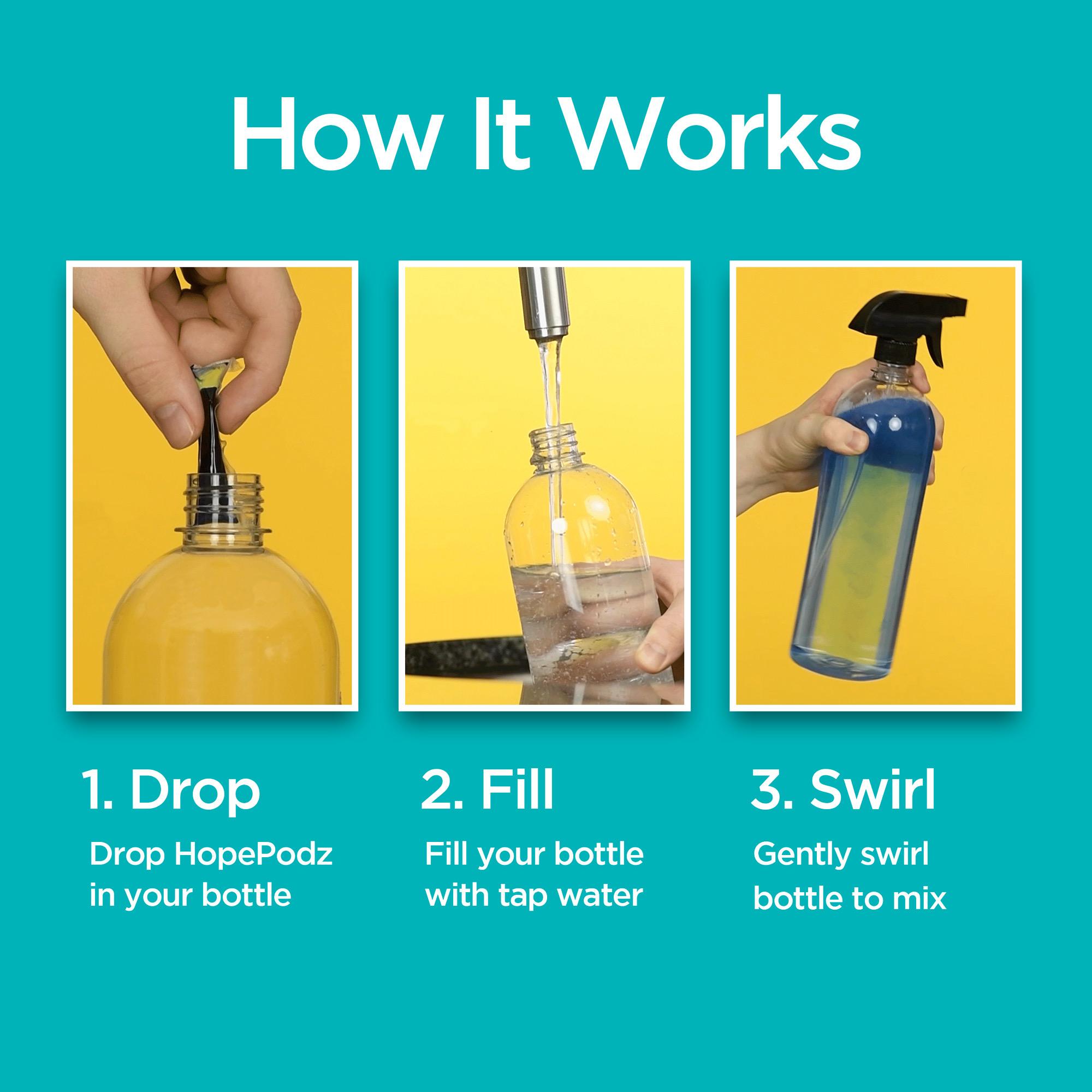 Cutting Down on Plastics?
GET YOUR FRIENDS TO, TOO!
Tired of "recycling" your empty cleaner bottles — knowing 91% of them end up in landfill anyway? 😱




Excited to support our Canadian student-led small business (just us 5 Hopes)? 🇨🇦




Frustrated with paying too much in US$ for your eco-friendly products? 😕




Worried about greenwashing & tablet refills that don't have what it takes to clean the tough jobs? 🙄
What do the 3 HopePodz cleaners clean?

All HopePodz house-cleaners are Green Seal Certified to be AMAZING cleaners 😊In fact, they're used by professional cleaners to keep offices, malls, gyms & health facilities clean. We're first to offer them to the Canadian home market!




HopePodz Multi-Surface Cleaner (purple pod) is specially formulated to tackle dirt and grease on all NON-POROUS SURFACES, including: counters, sealed wood floors, laminate & sealed stone (marble, granite, quartz, travertine, terrazzo). Great for use in your kitchen, family room & in your Vileda floor spray mop.




HopePodz Bathroom Cleaner (green pod) is specially formulated to tackle soap scum, water stains, and messes you find around the toilet! Again, it's safe for use on NON-POROUS SURFACES, like your counters, sealed stone & shower surfaces, tubs & sealed tile




HopePodz Glass Cleaner (blue pod) is designed for use on glass, mirrors & windows. There's NO AMMONIA in it so to avoid streaking, we suggest you try our HopeTowelz Swedish sponge cloths (which really are a game changer).HopePodz

What are the ingredients? Are they safe?

HopePodz Cleaners: Our Green Seal Certified cleaning formulas are non-toxic & non-carcinogenic. They contain: Ethoxylated alcohols, C9-C11 blend, Hexylene glycol, Propylene glycol, Water, Synthetic fragrance (lavender), Dye

Safety: As with all cleaners, please keep your Podz out of reach of children.

The following safety information is for concentrated Podz only. Once diluted with water at home, these warnings no longer apply. Please refer to the dilution instructions included in your Pack... "KEEP OUT OF REACH OF CHILDREN. May irritate eyes and skin. Do not get in eyes or skin. Do not ingest. FIRST AID: Contains: Ethoxylated alcohols C9-C11 blend, Hexylene Glycol, Propylene Glycol. If contents come in to contact with skin rinse with water. If ingested, drink plenty of water and do not induce vomiting, consult a physician or poison control centre. In case of eye contact, flush with water for at least 15 minutes and seek medical attention"

HopePodz Cleaners: Our manufacturer calls it lavender — but I really don't smell much of anything. In fact, many Planet Hopers tell me they add a few drops of their favourite essential oil to beef up the scent a bit.

Still, we caution you that HopePodz may not be suitable for individuals with scent sensitivities. If you find you cannot manage the fragrance, we have a 100% money back guarantee

Where are HopePodz manufactured?

🇨🇦 We're a student-led company (with a little help from our parents) that's based in Ontario.

We ship everything using Canada Post

We charge in CDN dollars

There are no duties or custom charges

Our manufacturing partner is also Canadian, with facilities in both Canada & the US

Is HopePodz packaging recyclable?

Yes! In our parents basement, we hand-pack your Podz into tiny, RECYCLABLE CARDBOARD boxes. We avoid factory-packed, plastic "recyclable" pouches used by Big Brands — as well as "compostable" wrappers (often foil-lined) used by our American tablet friends. Sadly, plastic pouches & compostable wrappers too often end up FOREVER in landfill. Few major Canadian Municipal Waste Centres have the facilities to compost/recycle these materials. 

Do the Podz break down into micro-plastic?

Our Podz do NOT contribute to the Planet's micro-plastics issue. The Podz casing is made up of polyvinyl alcohol (PVA,PVOH). PVA is Green Seal Certified to 100% biodegrade into a non-harmful monomer that's safe for aquatic life. A recent scientific study in Germany (MARCH 2021) concludes that PVA does not meet any of the definitions of micro-plastic:

it is not micro- or nano-sized;

it is highly water-soluble; and

it is biodegradable in the environmental conditions where it is discharged




Absolutely! You can return or exchange the unused Podz within 30 days of delivery for a full refund or exchange.

Just email us at info@weareplanethope.com; or 

Chat With Us on the bottom right of this screen; or

Call 1-866-521-HOPE (4673). One of us Hopes will be here to help 😊
Join us for new videos, discount codes, and more!